Why is Social Media Marketing Important in your Email Marketing Efforts?
Posted byAkashon24 06 2021. 0 Comments
Email marketing &  Bulk email marketing server can help increase engagement on social media by reminding subscribers that your brand has an active social community. This social media marketing strategy not only helps increase engagement on social media but also gives subscribers value and can help keep them even more connected to your brand.
In your business, you can employ social media marketing campaign and email as standalone techniques. However, combining them through social media and bulk email services integration will provide you with even more benefits of social media marketing, such as broadening the reach of your campaigns, recognizing industry leaders, and increasing the number of subscribers on your list. The more number of subscribers you have more testing & benefits is possible out of your email marketing strategy.
Marketers must realize that using only social media or email marketing to promote a product is not a viable marketing technique. Marketers must instead integrate social media and email marketing. Customer acquisition and lead nurturing initiatives require the use of email marketing. Include social media in your email campaigns if you want to rethink marketing opportunities and propel your company to new heights.
Benefits of Social Media Marketing and Email Marketing Integration
Here is why integrating social media and email marketing is beneficial for your business using a bulk email server provider :
Increase the metrics of marketing
When you use social media marketing techniques in your emails, sharing the email becomes easier for your readers and increases the chances of getting more opens and click-throughs. As a result, the conversion rate of your campaign (email marketing) improves, and how to use an SMTP server for sending emails for a better engagement rate.
Increase your subscriber's list
Social media campaign strategy will boost your brand's word-of-mouth publicity if consumers are constantly talking about your emails or posting about the same on social media. As a result, more people will be aware of your emails, and this will lead to expanding your email subscriber list.
Find the distinguished influencers
You can determine the email openers (consistent) and conversions from the data given by bulk email service providers. This information can tap into the strength of these subscribers and deliver them personalized email marketing.
New platform for subscriber interaction
Using social media marketing services allows you to connect and engage with your prospects and consumers. Inform your subscribers or audience regarding the social media platforms or how do I set up my SMTP server for sending emails where you are active and invite them to follow you on those platforms. This way they can stay updated regarding the latest promotions, news, and product launches.
Offer choices to your email subscribers.
You should not rely just on email as a marketing tool that is provided by SMTP service providers. Your email subscribers may spend more time on social media than on email. Allow them to interact with you on the platform that they are most familiar with.
Multiply the potential reach of your message
If your social media channels are added to your emails, then their reach is automatically increased.
Now that we've covered the benefits of this social media campaign strategy in which you combine social media with email marketing let's look at how you do it properly.
Integrating Social Media into Your Email Marketing Strategy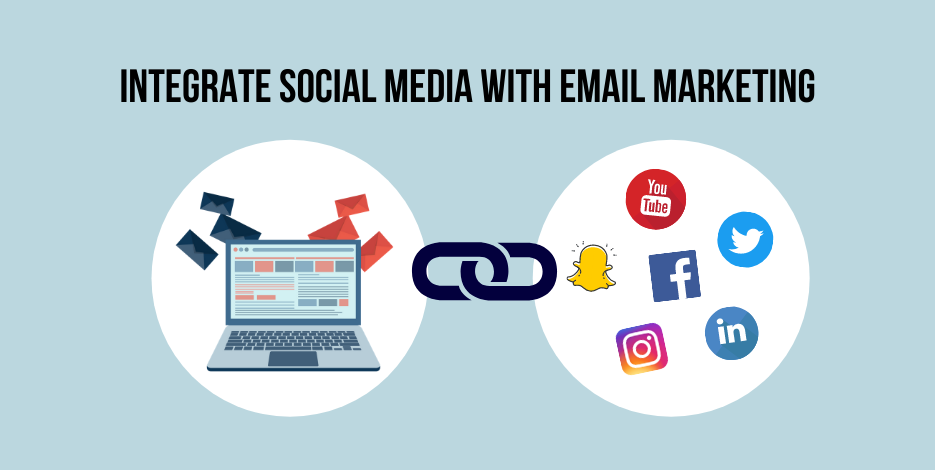 Add subscribers list to the social networks
A face and a name are added to an email address when the subscriber list is added to social media sites like Twitter, Facebook, or LinkedIn. Follow the (subscribers) on social media as this will allow you to better understand their requirements. And if there is some meat in your social media content then you are more likely to get new followers and connect with qualified leads.
Get followers from social to subscribe to your email list and vice versa
It's becoming more difficult to contact and engage prospects on social media as newsfeed algorithms continue to evolve. As a result, you may lose followers from time to time and find it difficult to reconnect with them afterward. It's also possible that your social media business page will be taken down, for example, as a result of a virus or bug. Even if it doesn't happen very often, you may lose your enormous, carefully cultivated audience in an instant. To overcome this problem, you can simply ask your social followers to subscribe to your email list.
Use the power of an incentive-based referral marketing strategy
Prospective clients are more likely to interact with reward-based marketing. To win interesting incentives and discounts, your email subscribers will try to get their friends and relatives to like or follow your social accounts and for more of this type of tips and strategy you can take the advice or help of an SMTP server provider
Add an email sign-up form on Facebook
Facebook allows you to include an email sign-up form on your page, allowing you to add your Facebook admirers to your email list.
Live social media feed in your emails works like a charm
Including a live social media feed in your emails is one of the most efficient ways to link social media with emails. Are you curious as to how? Check out Zapier, a third-party software solution that makes it simple to add Twitter and Instagram live feeds to your emails.
Create a Special Section or Community
The "Fear of Missing Out," or FOMO, is one of the common human fear that you can use to the advantage of your business through how to find an SMTP Server For Business. Create a special group on Facebook and get inside the human desire of being treated special. In this group, add only those who are getting their close friend and family to subscribe to your email lists.
Use Ads to Retarget Your Active Email Subscribers
Matching the purpose and interest of prospects with customized ads is one of the finest methods to secure a multichannel marketing plan. You can leverage the information from subscribers who have opened your emails to retarget them with social media advertising. You'll be able to reach out to eligible prospects more explicitly. As a result, making your plan far more cost-effective.
The Takeaway
It would become self-restraint if you are not combining social media and email. To avoid the same, you must integrate both and make the best of both channels. All you have to do is ensure that your content is relevant, contextual, and responsive. This will allow your followers to enjoy your content irrespective of the platform used. If you have any other ideas on how to add social media and email, do let us know.