Sendinblue Alternatives: Finding the Perfect Email Marketing Solution
Posted byNikitaon07 08 2023. 0 Comments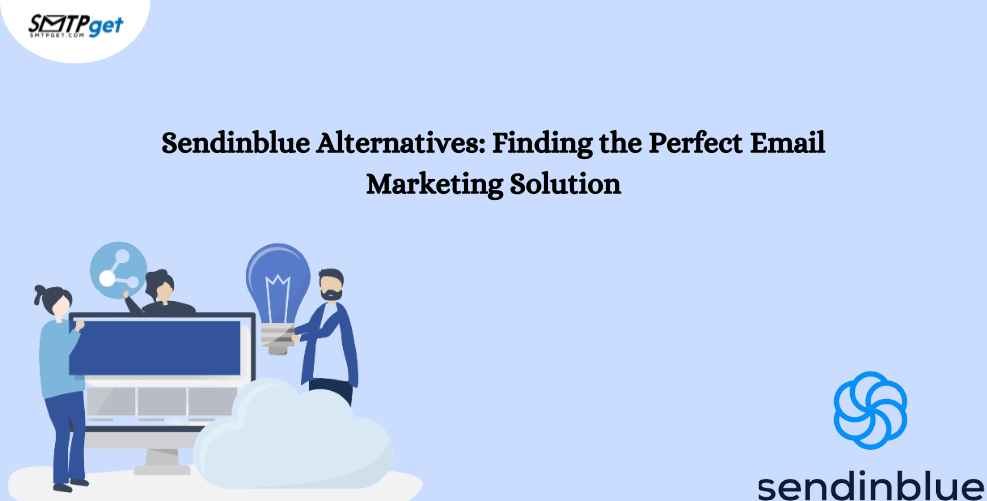 Email Marketing remains a cornerstone of effective communication and customer engagement. Among the myriad email marketing platforms available, Sendinblue has emerged as a popular choice. However, for those seeking alternatives that offer unique features and tailored solutions, this article delves into some excellent Sendinblue alternatives. Whether you're a small business owner, a marketing professional, or an entrepreneur, these alternatives can help you refine your SMTP service provider strategy and achieve better results. Email marketing has remained an indispensable tool for businesses looking to connect with their audience. While Sendinblue has earned a reputation for its email marketing capabilities, there are various Sendinblue alternative worth exploring that can cater to diverse needs and preferences.
Check Out Our Pricing 
Importance of Email Marketing
In an age of social media dominance, SMTP server for Email marketing stands tall as a personalized and targeted approach to engaging with customers. The ability to deliver tailored messages directly to the inbox of potential leads and existing clients fosters a deeper connection and higher conversion rates.
Understanding Sendinblue: Pros and Cons
Sendinblue has made its mark with an array of features such as email campaigns, transactional emails, and marketing automation. Its user-friendly interface appeals to many users. However, its pricing structure and limitations on certain features may prompt users to seek Sendinblue alternatives that better align with their requirements.
Key Factors to Consider in an Email Marketing Solution
Before delving into the Sendinblue alternative, it's essential to identify the key factors that make an email marketing solution effective. These include ease of use, automation capabilities, customization options, deliverability rates, customer support, and integration possibilities.
Top Sendinblue Alternatives
SMTPget
:
A Versatile Email Marketing Powerhouse
SMTPget is an advanced SMTP server provider that specializes in ensuring the successful and efficient delivery of emails. It acts as a bridge between your email marketing platform and the recipient's mailbox, ensuring that your messages reach their intended destination without any hiccups. SMTP is an alternative to Sendinblue its protocol is responsible for sending and receiving emails over the Internet. It plays a crucial role in the entire email delivery process, from sender to recipient. SMTP servers are responsible for routing and transmitting emails between different mail servers until they are delivered to the recipient's mailbox. SMTPget seamlessly integrates with various email marketing platforms, including the Sendinblue alternatives mentioned earlier. This integration enhances the deliverability and overall effectiveness of your email campaigns, enabling you to engage with your audience more effectively.
SMTPget provides real-time tracking and detailed analytics to give you insights into the performance of your email campaigns. You can track open rates, click-through rates, and other essential metrics to refine your strategies. SMTPget provides a range of customizable email templates that you can personalize to match your brand's identity and engage your audience effectively. Its focus on deliverability, analytics, automation, and customization empowers you to engage your audience effectively and achieve your marketing goals.
Digitalaka: Simplified Email Campaign Management
The digital landscape is constantly evolving, demanding innovative approaches to stay ahead in the competitive market. Email marketing remains a stalwart strategy, and the emergence of alternatives to Sendinblue like Digitalaka offers fresh avenues to harness its potential. Email marketing has grown beyond traditional text-based messages. It now encompasses dynamic visuals, interactive elements, and automation, making it a versatile tool for marketers to engage and convert their audience effectively. Digitalaka's advanced automation empowers marketers to create intricate workflows, ensuring that the right message reaches the right audience at the right time. This feature minimizes manual intervention, allowing you to focus on strategic planning.
iDealSMTP: User-Friendly Platform for Startups
iDealSMTP is a cutting-edge SMTP relay service that focuses on optimizing email deliverability. By leveraging advanced algorithms and technologies, iDealSMTP ensures that your emails not only land in the inbox but also remain free from spam filters and other obstacles. Whether you're a startup or an enterprise-level business, iDealSMTP scales to accommodate your email marketing needs. It ensures that your emails are delivered promptly, regardless of the volume. While traditional SMTP services play a role in email delivery, iDealSMTP takes it a step further with its advanced algorithms, real-time analytics, and scalability. It addresses the challenges that often accompany email deliverability, providing a more comprehensive solution.
Do you Know About the best Email Gateway Service Provider to Enhance Email Deliverability? 
Mailchimp: A Versatile Email Marketing Powerhouse
Mailchimp's intuitive drag-and-drop interface and extensive template library make it a go-to choice for businesses of all sizes. With features like A/B testing and detailed analytics, Mailchimp empowers marketers to optimize their campaigns for maximum impact.
Constant Contact: Simplified Email Campaign Management
Constant Contact offers a user-friendly platform with a wide range of customizable templates and automation features. Its built-in social media tools and event management capabilities set it apart as an all-in-one marketing solution.
GetResponse: All-in-One Online Marketing Platform
GetResponse goes beyond email marketing, offering features like webinars and landing page creation. Its marketing automation capabilities allow for intricate workflows, segmenting your audience for targeted communication.
ConvertKit: Nurturing Your Audience with Precision
ConvertKit caters to content creators and bloggers, focusing on segmentation and automation to engage subscribers with the right content at the right time. Its simplicity and user-centric approach make it a favorite among creatives.
AWeber: Time-Tested Email Marketing Expertise
AWeber boasts a long-standing reputation in the email marketing realm. It's easy-to-use platform and robust automation features enable businesses to create effective campaigns and foster lasting customer relationships.
MailerLite: User-Friendly Platform for Startups
MailerLite offers a seamless user experience with its intuitive interface and simplified email-building process. It's an ideal choice for startups and small businesses looking to establish their online presence.
SendPulse: AI-Powered Multi-Channel Marketing
SendPulse stands out with its AI-driven platform that encompasses email, SMS, and web push notifications. This enables marketers to engage audiences across multiple channels for a holistic marketing approach.
Benchmark Email: Customizable Templates for Impactful Campaigns
Benchmark Email provides an array of customizable templates and advanced automation features. Its emphasis on responsive design ensures that your emails look great on any device.
Campaign Monitor: Engaging Visual Email Builder
Campaign Monitor's visually appealing email builder simplifies the process of creating eye-catching campaigns. Its analytics and reporting tools offer valuable insights into campaign performance.
Drip: E-commerce-focused Email Marketing
Drip is tailored to e-commerce businesses, offering advanced automation and segmentation capabilities. This enables personalized and timely communication with customers, driving sales and customer loyalty.
HubSpot: Integrated Marketing Automation and CRM
HubSpot's all-in-one platform combines email marketing with CRM and marketing automation. Its comprehensive suite of tools empowers businesses to manage leads, nurture relationships, and analyze performance.
ActiveCampaign: Advanced Automation and Behavioral Tracking
ActiveCampaign's robust automation features are complemented by powerful behavioral tracking. This allows for highly targeted communication based on user interactions and preferences.
Do you know About SMTP Servers with IP Rotation to Ensuring Reliable Email Delivery?
Moosend: Affordable and Intuitive Email Marketing
Moosend offers an affordable option for businesses seeking intuitive email marketing. Its drag-and-drop editor and automation features make it easy to create effective campaigns without a steep learning curve.
Omnisend: E-commerce-tailored Email and SMS Marketing
Omnisend specializes in e-commerce marketing, offering features like cart abandonment emails, product recommendations, and SMS marketing. Its goal is to drive conversions and revenue for online stores.
Factors to Evaluate When Choosing an Alternative
As you explore these best Sendinblue alternatives, keep in mind your specific needs, budget constraints, and long-term marketing goals. Consider factors such as pricing, scalability, integration options, and the ability to adapt to your evolving marketing strategies.
Conclusion
Choosing the right email marketing solution is a crucial decision that can significantly impact your business's success. While Sendinblue offers several advantages, these Sendinblue alternatives provide unique features and approaches that may better suit your requirements. By considering your goals, target audience, and desired features, you can confidently select an email marketing platform that propels your business forward.