How to write a cold email that converts?
Posted bysatyam inton10 03 2022. 0 Comments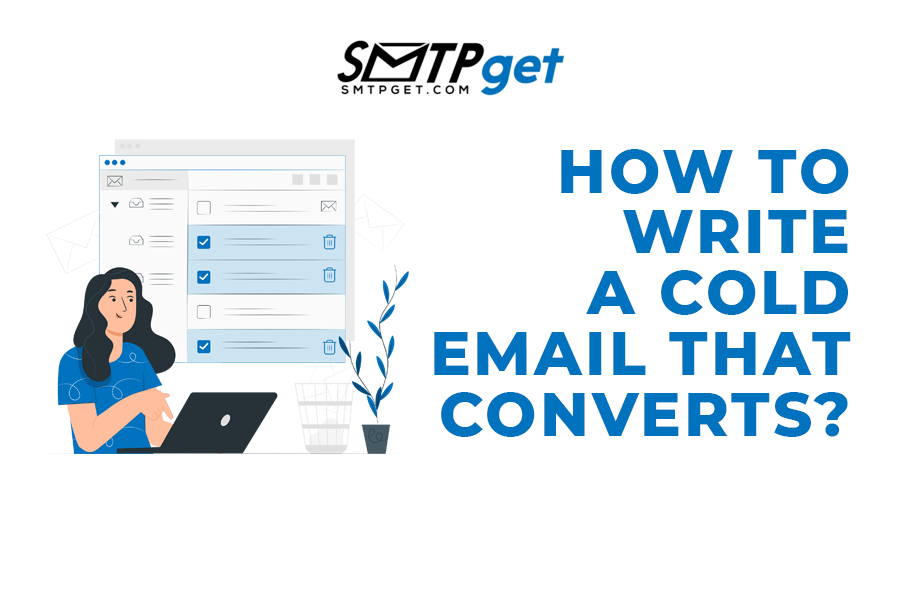 As it is expected, write a cold email must be precise yet, have very strong content, that engages its audience and helps in getting orders as much as possible. Therefore, it is important that the whole component of this brief message be meaningful as well as provide an important channel for communication, so use the best subject lines for cold emails. There are a variety of factors that play an important role in determining if the content that you have sent via your mail will be able to attract good amount of open rates and help you get leads.
Using bulk email marketing server too is of significance and the length of mail should be around 50-125 words, this can easily help you get ahead with the conversation. Prohibit the usage of long mail, since the likelihood of someone reading it is too low. Or you can also take the help of mass email service provider for sending bulk emails.
Understanding Cold Mail
cold emails that get responses is one of the best ways to keep the business relationship fine and maintain good communication with existing and potential clients/ customers. Let us understand how a relationship between businesses starts with the help of a cold email campaign.
A salesman attends an industry conference or trade show in order to meet new clients. Post that they go out to hunt for opportunities, which would lead to a discussion throughout the event. Their purpose, though, is not to market their product or brag about their firm. Their only aim of theirs is to break the ice and start a conversation. They intend to get to know the company as much as possible and learn more about their prospect's company to be able to establish a good connection with them.
This concept too is utilized for outbound sales. In today's world, this is one of the most efficient ways to make space for a relationship. The ones you are sending cold emails for sales to may have not heard about your company and this is the first interaction of yours with them. Since you know nothing about them and vice versa, these emails sent are called "cold" leads.
Not to misunderstand the idea behind cold mailing, it is not done with the purpose to convert strangers into business partners right away but to create a connection with the strangers and later via that, convert them into your business partners. To put it another way, those leads need to be warmed up gradually for such conversion. 
How has the approach to such mailing changed?
Since its initial days, one may say that in sales, personalized your cold email has now come a long way.  In traditional marketing, cold email marketing services were only used with the aim of pitching an offer to an individual. These messages weren't as customized as the way you see it today, back in the time, just a single, generic message was sent to a big group of prospects and there was no personalization or segmentation made in that message.
Because the technology at that point in time was quite new and only a few people transacted business via smtp server provider at the time, using a mode at that kind of level, with a mass-sales-oriented strategy too worked well, and provided the business with leads and proved to be a lead generating tool. However, with time this strategy became less successful since the market was flooded with copy-and-pasted mail. It was then that the people became quite sensitive to the tone and generic nature of cold emails.
Due to the change in the attitude of the prospects in response to the mass mailing, the technique of sending cold emails developed dramatically. In today's time, if a business now has a strong business vibe in its pitch, the mail sent to future prospects is certain to fail miserably. Therefore, making all the personalized emails without segmentation is unsuccessful in that essence.
In today's time to main aim of the company or the sender is to establish a good rapport with a prospect. The main focus should be put on the tone, making the prospect feel personalized, rather than your product or service. The best way to do the same is by considering yourself in their shoes. The first vibe of your mail should be that the prospect should feel as though you are capable of understanding what their business requires and the issues it faces, from the first bulk email services that you may send.
It is advised to not rush into making the transaction. You must give your prospects some space and allow them to tell you a bit about the issue they might encounter on a daily basis etc. It is then that your role comes in, and demonstrates how these procedures might be enhanced or carried out in a more efficient manner.
Personalization is the key
Nowadays, you must understand that personalization is essential for capturing a prospect's attention. As a result, prospecting is critical to the overall effectiveness of any cold emails that work. Additionally, personalization involves addressing the precise response of your leads by creating many copies of a follow-up and specifying a prompt action that pings it. The key to the same is knowing about your prospect, because the more you know about them, the smoother it will be to design a message that is ideally targeted to the specific category/ segment of prospect.
6 – Step Guide To Writing a Cold Email that Converts
There are various steps to writing an ideal cold mail, and it is as follows:
Step 1 – Editing the 'from' line
One normally sets it up with a new email address and then doesn't pay much of thought after that. Nonetheless, the "from" line holds significant importance in cold emails since it reveals the identity of the sender to the recipient of the message. It's a factor in their first impression. Following that, it is up to the people and their will, if they want to open the message and read it or toss it in the trash and forget about it.
Since you as a sender are a stranger to your recipients, they may, and most likely will be skeptical of your email. The "from" line is among the first things the recipient would see when they open your email. There are only two options that one may get into, you may either gain customers' trust or frighten them away. If your first impression isn't good enough, there is a high possibility of your mail getting deleted that too without ever examining it.
As a result, it's a wise idea to double-check your from the line prior to launching a fresh cold email campaign. The "from" line is not fixed and has an option of changing it whenever we choose. Before sending a new campaign, try mixing and matching the form of our "from" line by selecting one of the potential forms. Your 'from' line may look like anything from the 5 options given below:
Only the First name

The First name + Last name

Three things together, First name + Last name, Title/ designation

First name + Company name

First name + Last name + Company name
There are a few rules to keep in mind, at the time of writing your 'from' line:
Be constant in tone and manner –

don't let your tone deviate from the rest of your email.

Understand your prospect's POV –

While writing your "from" line, try to emulate what you would hope to see in your mail if you were one of your leads.

Create your own line that meets your prospect's objectives –

one mustn't slavishly follow any guidance you find online. Consider your options. You are the one who is most familiar with your clients and knows what they anticipate seeing.

Consider who your clients are most interested in speaking with –

and be precise. Use that information to modify your "from" line.
Step 2 – Subject is the key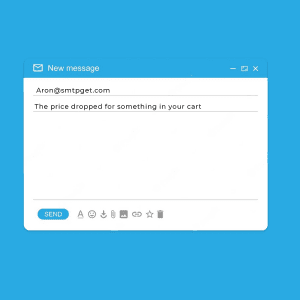 The subject line of any cold email being sent via Bulk email server is thought of as the key that unlocks the door to your message. It is while viewing the subject line, your prospects develop their initial impression of a company. That is why it is essential to make the subject a memorable one.
If your subject line is badly crafted, it may affect the addressee's opinion of you and your communication. They may choose not to read the email or, worst, flag it as SPAM, which might also result in issues with email deliverability. Here are a few rules to keep in mind:
Examine your prospect's point of view

— consider what type of advantage your subject line provides the prospect. Ensure it meets their wants. The subject line should be about them rather than about you.

Make it your own

— the subject line is not really the spot for self-promotion rather, it is the point where you should demonstrate to the addressee that you deliberately intended to approach them, assuring them that you are not a spammer.

Pique their interest

– Captivate their attention. Try to engage their attention and address a difficulty they may be experiencing.

You are not a bot

— since you're communicating with a real, human being, so don't transform your emails into something that sounds like a bot. One must restrain from coming out as 'sales' or too formal. The tone of your subject line should be informal, welcoming, and genuine.

Connect it to the remaining email

— Regardless of what you write in your subject line, it should somehow be related to the body of your letter. It is strongly recommended that, under any circumstances, prohibit the usage of any clickbait tactic in your subject line.
Step 3 – An outstanding cold email is a must
You're pretty much finished when you convince your recipient to open your message using the 'from' line and the subject. All you've now is 3 seconds to capture their interest and persuade them to read the mail further. That is why an enticing introduction id required.
A cold email best practices beginning should be no more than two or three sentences long. Its purpose is not to present you or your organisation to the potential customer. Rather, it is made for the message's recipient, talk about their skills, accomplishments, work, and firm.
Perhaps a dash of praise is something that you may add to your introduction lines. But it is recommended not to go overboard with the same. Make certain that, your professional status is being maintained.
Above everything else, utilize the introduction to demonstrate to potential prospects that they got the email since you decided to contact them specifically. Prove to them that you have done your research and it wasn't the spur of the moment. You were methodical in your approach. You can check out some of the examples to learn how to write an email for cold emails. 
Also read: Best Server for Small Bussiness
Step 4 – Restrain from the standard pitch
This is the area where you explain to the email recipient what you really want from them, also known as the pitch. One must be delicate with their pitch in a B2B sales email. The perspective while writing the mail shouldn't be to close a business deal, but rather to begin a one-of-a-kind commercial relationship with a possible buyer. And that necessitates a personalized strategy.
You must emphasize on keeping your prospect in the spotlight with your pitch. Try giving them as much importance as possible. Try finding out what challenges they may be having and how you might assist them. Use the narrative way to show them how you can help them solve their difficulties. Demonstrate to them that you're here to assist them in the process.
Do not talk about the value you provide, while writing you. Emphasize the advantages your prospect will receive as a result of it. Keep in mind to be detailed. The pitch should look inextricably related to the preceding sections of your email. Give it an appearance of a natural continuation of a normal conversation taking place. The only point to strictly keep in mind is not to be pushy or too salesy in the conversation /pitch you initiated.
Step 5 – Always close with a Call to Action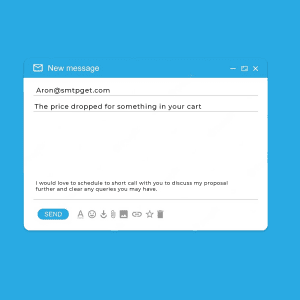 With all the above procedures, you are almost finished. Now, the only thing that needs to be created is a call to action (CTA) that will encourage your targets to take the action you would like them to do as a result of your cold email. The CTA may be anything, from, organizing a Skype conversation, providing comments, responding to you, and so forth.
Maintain a clear and uncomplicated approach
The ideal CTA should include the following:
Be clear and concise —

the CTA should not be more than one sentence long. Try being as brief as possible. It should also not be hazy.

A clear expression of your email's objective, in a single sentence –

Make sure that your CTA of yours clarifies the reason for your email in a single sentence. Make it obvious to the recipient what you expect them to do.

Don't bombard with huge favors—

a plea for a basic action or a brief response is likely to be more effective than an invitation to a 30-minute phone conversation. The ideal way to start is by beginning it small.
Step 6 – Improve your Signature
One can't overlook the significance of a signature because it is an integral element of the mail being sent. It must tell the recipient who you are and where they can learn more about us and/or our organization. It is suggested to go for a well-crafted signature since it helps in shortening the email body as well as making the content look more readable with a special focus on the addressee.
Make certain that it helps you appear trustworthy – A lack of information and no suggestions as to where to locate you will almost certainly reduce your chances of receiving a response from the prospect making you like a spammer.

Keep important information: Remove the data you feel only takes up space and is irrelevant to the topic.

Use a clean HTML— having a sloppy HTML signature may lead to email deliverability concerns. If the signature contains a lot of HTML, the text-to-HTML ratio may be thrown off. Make sure someone is there to review the same, if not, stick with a plain text signature.
A follow-up mail is quite essential to send, at least send 2-3 of the same. Instead of making it sound like a mail sent as a reminder for a prompt response, try making it quite inclusive with additional information, like case studies or surveys for your prospects.
It is highly advised to go for an automated email campaign through SMTP service providers since it decreases the manual labor of sending personalized emails to each and every prospect, at the same time ensuring a better lead attraction still are you thinking does cold email marketing work or not?