Email Design Trends to use this 2023 for Improving Email Marketing Strategy
Posted byAkashon15 02 2021. 0 Comments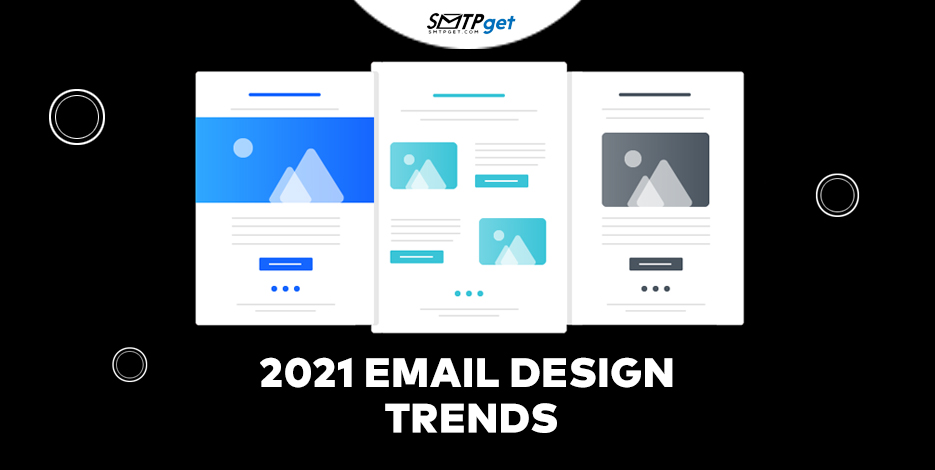 For carrying out every successful marketing strategy, you need to follow specific trends and tricks that will drive your approach to the right path. Here in this article, we have discussed some creative email design trends, best suited for your email marketing strategy 2023.
From bold typography to enveloping the mail with emotional design, you can gear up your strategies with these trending bulk email sending service designs quite finely.
Most often, brands prefer playing on the safe side, incorporating email designs that have been drawing results for a long time. The old forms of minimalism, pastels, and static images were the favorites of many brands. Nevertheless, in 2021, there is an expected change in email designs, wherein besides the simple, minimalistic designs, newer trends with expressive designs and soothing effects may demand more prominence.
Before introducing you to all the main design trends, let's list them down for a quick read.
Let's discuss these bulk email service provider design's best practices individually in detail, grasping ideas about how to use them, where to apply them and how to draw out the maximum effectiveness.
Include Bold Typography in your Email Design
Gone are those days where the image of an email played the most influential role. Highlighting the innovative copywriting with bold typography enhances the impact you want to present through our message. Originating in the 19th century, Bold Typeface's trending design with all its fonts and styles attempts to create the mails appeasing. Thus, there are greater chances of captivating the readers' attention, as they would lazily scroll down a list of promotional emails. Also you can easily try this if you are making designs manually on HTML or with any drag & drop tool.
Also Read: What is Cold Emailing, And Does It Work In 2022?
Embrace the dawn of Dark Mode 
The dark mode is gaining importance and popularity in recent years. Majority of the people use dark mode on their phones, and more specifically, around 91.8% of Google users use dark mode in their emails. This has been found in a survey done by Android Authority. But why is there such hype regarding dark mode? The reason is simple – with screens becoming an integral part of our lives, the dark mode feature allows people to get rid of eye strains.
Also Read: Here's the difference between Email Marketing & Automation
Upgrade your Email designs with Gradients
Standing out from the crowd is essential, no matter what field you want to expand. Help your emails gain the attention of the receivers by adding vibrant gradients in the background. The gradients help your mail stand distinct from a host of other mail that crowds the receivers' inbox. For further enthralling effects, you can even apply either animated gradients in the mail background or visuals to enhance the aesthetic quality. Either way, you, and your emails, will end up grabbing the eyeballs and managing to retain the estimated audience's interest.
Alongside these colorful features, the gradients add pinches of nostalgia. The psychedelic culture dating back to the 1960s had sown the seeds of the origin of the gradients. Thus the gradients carry a vintage ambiance in the mail designs. Do try out gradients in your email campaign designs this year.
Also Read: 5 Methods to Check Your Email Sender Reputation
Let your emails emote with Emotional Design
Evoking the appropriate emotion based on your email's content is taking your email marketing strategy one step ahead. So what can be the emotions that you can try triggering? We have provided you with a list that includes guilt, belonging, optimism, vanity, curiosity, greed, trust, desolation, love, or lust.
How can colors help in this regard?
Colors convey a lot more than we can imagine. Each color bears unique properties; for instance, blue represents a feeling of peace and tranquillity. For evoking creativity, vitality, and liveliness, orange is the color you. Yellow calls for attention, while red evokes the emotions of passion and perseverance.
What about the images?
Suppose you are promoting some discount and sales offer, what kind of an image will suit it? A sad face – a big NO. All you need is an image that will ignite the audience's excitement and make them go through the details.
Try to make your email design template in such a way that it expresses the emotion that you want to convey to your receiver.
Bring freshness to emails with Neumorphism
The simple art of using elusive effects without any trace of over-representation is what metamorphism is all about. You can take the help of Adobe Photoshop, Figma, and Adobe XD to bring out the designs for the mail. The result is the same – luring the attention of the subscribers. There are a wide array of colors that you can make avail to as per your business model.
Test Textured illustrations for 2D Images
Bring a change to the old-fashioned usage of typical images, and create exclusive visual marketing strategies for your promotional emails.
You can go for textured illustrations that will decorate ordinary 2D images, taking them to the next level. Simple incorporation of shades and textures into otherwise monotonous pictures will make the layout eye-catching and appealing. Go through various colors, contrasts, and patterns, and find out what suits your content and promotion.
Add a new dimension to your emails with 3-Dimensional Images
While 2D images are good, why not go for the 3-D images that are way better and take your emails one step ahead?
After establishing its grip on web designing, 3-D images found a position in the realm of email design. With a few complicated steps, your 3-D images can make your email lively.
Phase in Phantasmagoric Collage
What can be more thrilling than having the opportunity to bring out bits from diverse images and assemble them to form a single picture? Phantasmagoric college will help you do so to augment your email marketing design trends.
The phantasmagoric collage will stimulate the curiosity of the subscribers while creating a surreal ambiance all over. All you need to follow is to make use of this feature sensibly to not over-excite the targeted audience.
Give voice to your email templates with Muted Colours
All those bright and perky tints no longer stimulate the attention of the readers. Instead, why not go for the muted colors that are in trend since 2020? The muted colors, produced by mixing the complementary colors, attempt to have a soothing effect on the readers. So from now onwards try to use muted colors in your Email's Layout Template.
Try out the marvel of Monochrome layout
Break the myth that monochrome is just all about gloomy shades such as black and white. Choose any of the colors of your choice and go for a monochrome  design. This minimalistic approach receives much appreciation and attention, and at the same time, looks classy.
Spruce up your emails with Illustrated Animations
Try amalgamating two separate elements, and the new result will often cheer up the layout of your email design. Consider taking the feature of illustrated animation, where your results will be fetched by the conjoined power of illustrations and GIFs. This will stimulate the visual effect of the readers and help you gain more subscribers.
"In a crowded marketplace, fitting in is a failure. In a busy marketplace, not standing out is the same as being invisible" Said Seth Godin. Gone are the days when using the same boring template is going to bring you opens and clicks, today we have to try new things or adapt to the market's new trends. If you looking for an email marketing company that can help you with your email marketing then consider checking out SMTPGet, dedicated smtp server