Top Constant Contact Alternatives for Effective Email Marketing
Posted byNikitaon14 09 2023. 0 Comments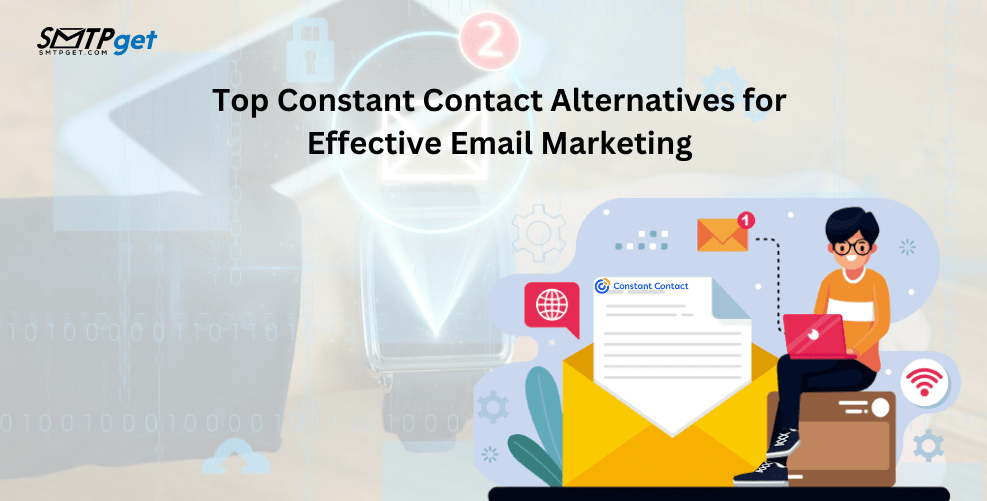 Email marketing is a powerful tool for businesses looking to engage with their audience, promote products or services, and build lasting relationships. Constant Contact has long been a popular choice for email marketing, but it's essential to explore other options to find the best fit for your specific needs. In this article, we will delve into the top Constant Contact Alternatives, comparing their features, pricing, and suitability for various use cases.
Limitations of Constant Contact
Constant Contact offers a user-friendly interface and basic email marketing features. However, it may fall short in catering to the advanced needs of some businesses. For instance, it might lack automation capabilities or in-depth analytics required for a comprehensive Bulk email marketing Service.
Need for Diverse Features
Different businesses have different requirements when it comes to email marketing. Some may prioritize automation, while others may need robust segmentation options or integration with e-commerce platforms. Exploring Constant Contact Alternatives allows you to find a platform tailored to your specific Bulk mailing services needs.
Budget Considerations
Cost is a significant factor in any business decision. While Constant Contact offers various pricing plans, some alternatives may provide similar features at a more competitive price point. Assessing your budget is essential to make an informed choice.
Top Alternatives to Constant Contact
SMTPget-
Are you seeking an alternative to Constant Contact for your bulk mail service needs? Look no further than SMTPget! In a world where effective communication with your audience is paramount, SMTPget stands out as a top choice for businesses of all sizes.
SMTPget offers a robust and user-friendly platform, empowering you to create and manage email campaigns effortlessly. With advanced automation features, customizable templates, and detailed analytics, you can tailor your messages and analyze their impact with precision.
Say goodbye to the limitations of Constant Contact and explore the versatility of SMTPget. Whether you're a small business looking for an affordable solution or a larger enterprise in need of advanced features, SMTPget has you covered.
Make the switch today and discover the power of SMTPget as your go-to Constant Contact alternative, ensuring your email marketing campaigns reach new heights of success.
iDealSMTP- 
While Constant Contact has been a go-to choice for many, iDealSMTP emerges as a formidable alternative. With a focus on versatility, robust features, and cost-effectiveness, iDealSMTP is carving its niche in the digital marketing landscape. Constant Contact, while user-friendly, can be limiting for businesses with advanced Bulk email service provider. iDealSMTP steps in with a comprehensive suite of features, including automation, detailed analytics, and seamless integration capabilities.
iDealSMTP empowers businesses with advanced automation tools, allowing for personalized and timely email campaigns. Whether you're nurturing leads or re-engaging customers, automation is the key to efficiency, and iDealSMTP delivers. One of iDealSMTP's standout features is its cost-effectiveness. In a competitive market, it offers affordable pricing plans without sacrificing essential features, making it accessible to businesses of all sizes. While Constant Contact has its merits, iDealSMTP stands tall as a Constant Contact Alternative that caters to evolving email marketing needs. With its feature-rich platform, focus on automation and budget-friendly options, iDealSMTP is the ideal choice for businesses seeking to optimize their email marketing efforts.
Digitalaka
When it comes to email marketing, choosing the right platform is crucial. While Constant Contact has been a popular choice, alternatives like Digitalaka are gaining recognition for their robust features and user-friendly approach.
Digitalaka offers a comprehensive email marketing solution designed to meet the diverse needs of businesses. Its intuitive interface makes it easy to create and send engaging emails, while powerful automation tools help streamline campaigns. What sets Digitalaka apart is its commitment to deliverability and engagement. With advanced analytics, you can track the success of your campaigns in real time and make data-driven decisions.
Mailchimp
Mailchimp is a versatile email marketing platform known for its user-friendly interface and automation capabilities. It offers a free plan and various paid options, making it suitable for businesses of all sizes.
SendinBlue
SendinBlue is a comprehensive marketing automation platform that includes email marketing, SMS campaigns, and transactional emails. It's an excellent choice for businesses looking for an all-in-one solution.
GetResponse
GetResponse is known for its advanced automation features and robust email marketing capabilities. It also offers webinar hosting, making it a suitable choice for businesses that need both email marketing and webinar functionality.
AWeber
AWeber is a reliable email marketing platform with a strong focus on automation and integrations. It's an excellent choice for businesses that rely heavily on automation in their email marketing campaigns.
ConvertKit
ConvertKit is designed for bloggers, content creators, and small businesses. It offers features like easy segmentation and automation, making it a favorite among those who want to personalize their email marketing efforts.
MailerLite
MailerLite is known for its simplicity and affordability. It offers a range of features, including drag-and-drop email editing, landing page creation, and automation, making it suitable for small to medium-sized businesses.
Benchmark Email
Benchmark Email provides a user-friendly interface and various templates for creating visually appealing emails. It's a good choice for businesses that prioritize design and aesthetics.
ActiveCampaign
ActiveCampaign is a robust automation platform that combines email marketing, CRM, and sales automation. It's suitable for businesses looking to integrate their marketing and sales efforts.
Drip
Drip is an e-commerce-focused email marketing platform known for its advanced automation and personalization features. It's an ideal choice for online retailers looking to optimize their email marketing campaigns.
HubSpot
HubSpot offers a comprehensive suite of marketing, sales, and customer service tools, including email marketing. It's a suitable choice for businesses looking for an all-in-one marketing solution.
Features Comparison
Each of these Constant Contact Alternatives offers a unique set of features, and the right choice depends on your specific requirements. Here's a brief comparison of some key features:
| | | | | | |
| --- | --- | --- | --- | --- | --- |
| Feature | SMTPget | Digitalaka | iDealSMTP | MailChimp | SendinBlue |
| Automation | Yes  | Yes | Yes | Yes | Yes |
| Dedicated SMTP Server | Yes | Yes | Yes | Yes | Yes |
| Pre-Training | Yes | Yes | Yes | Yes | Yes |
| High Security | Yes | Yes | Yes | Yes | Yes |
| Spam Filter | Yes | Yes | Yes | Yes | Yes |
Pricing Comparison
Pricing is a critical factor in choosing an email marketing platform. Here's a high-level look at the pricing structures for these Constant Contact Alternatives:
| | | | | | |
| --- | --- | --- | --- | --- | --- |
| Pricing Tiers | SMTPget | Digitalaka | iDealSMTP | Mailchimp | SendinBlue |
| Starting Price | 30$ | 20$ | 50$ | Free  | Free |
| Mid-tier | 110$ | 145$ | 145$ | $9.99 | $25 |
| High-end | Custom | Custom | Custom | Custom | Custom |
Pros and Cons
While each alternative to Constant Contact has its strengths, they also have their weaknesses. Here's a brief overview:
SMTPget
Pros: User-friendly, automation, and free plan
Digitalaka
Pros: All-in-one marketing solution, affordability
IdealSMTP
Pros: Advanced automation, webinar hosting
MailChimp
Pros: Strong automation, integration options
Cons: Limited e-commerce support
SendIn Blue
Pros: Blogger-friendly, easy segmentation
Cons: Limited visual email editing
Tips for Effective Email Marketing
Regardless of the platform you choose, here are some general strategies for successful email marketing campaigns:
Segment Your Audience: Divide your subscribers into relevant groups for targeted messaging.
Personalize Content: Use recipient names and tailor content based on subscriber behavior.
Create Engaging Subject Lines: Craft compelling subject lines that entice recipients to open your emails.
Optimize for Mobile: Ensure your emails are mobile-responsive for users on smartphones and tablets.
A/B Testing: Experiment with different elements like subject lines, visuals, and call-to-action buttons to find what resonates best with your audience.
Monitor Analytics: Regularly analyze open rates, click-through rates, and conversion rates to gauge the success of your campaigns.
Build Trust: Be transparent with your subscribers, provide value, and avoid spammy tactics.
Maintain a Consistent Schedule: Send emails on a predictable schedule to establish expectations with your audience.
Clean Your Email List: Regularly remove inactive subscribers to improve your email deliverability.
Conclusion
While Constant Contact is a popular choice, it's essential to explore Constant Contact alternatives that may better align with your business goals and budget. Each alternative mentioned here has its strengths and weaknesses, so take the time to assess your specific needs before making a decision.
Remember that a successful email marketing strategy goes beyond the platform you choose. It requires effective content, segmentation, personalization, and continuous optimization. By staying informed and adapting to the evolving landscape of email marketing, you can achieve your goals and build meaningful connections with your audience.